If you or your child are thinking of learning the piano but would rather not splash out for a brand new piano straight away, Ackerman Music has some excellent options available to you to help get you started and progress.
The Piano - KORG SP170S Digital Piano - simple, stylish and easy to use
We have worked with local teachers, looking at various makes and models of digital piano and decided that the Korg SP-170S is an excellent instrument, offering looks, functionality, ease of use - all at an affordable price.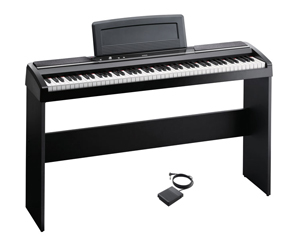 Main Features
88 keys (7.5 octaves)
Simple in design, the portable and stylish SP-170S emphasizes the vital piano elements: a comfortable keyboard and a satisfying sound
Two sampled concert grand piano sounds
Streamlined controls make it easy to select sounds and set the volume
10 sounds including: electric pianos, harpsichord, organs & strings
The Natural Weighted Hammer Action faithfully reproduces the touch of an acoustic piano
Key Touch Control offers three levels of sensitivity to match the keyboard response to any playing style
Internal speakers
Two headphone jacks allow for parent/child or student/teacher private practice, or for just sharing with friends
The Package
Included in our Digital Piano package is:
A Korg SP-170S digital piano
Damper (sustain) pedal
Music rest
Piano stand in black wood
Piano dust cover
The Cost
All this can cost from as little as £25 per calendar month, depending on which option you would prefer.
We have 3 options, designed to meet people's different needs:
£25 per month
Continuous rental with no maximum term
Instruments can be returned at any stage (minimum 3 months)
First 3 months rental cost can be deducted from the price of a new instrument (SP-170S, SP-250SB, LP-350BK available)
Free maintenance during the rental period
Insurance included

Click for full details

£25.50 per month
New instrument
Instruments can be returned at any stage (minimum 4 months)
24 monthly payments
After the 24th payment, the instrument is yours
Free maintenance during the rental period

Click for full details

12 Months Interest Free Credit

£37.50 per month, with £50 deposit
Buy the piano and spread the cost over 12 months
0% interest

Click for full details
Please contact one of our shops for more information.
Local delivery can be arranged for a small charge. Delivery options will be looked at on an individual basis. Please contact us to discuss options.