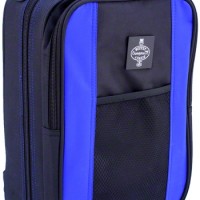 The Buffet B12 has been an extremely popular clarinet with students and teachers for a long time now. Lightweight, strong, easy to play and keep clean, it makes an excellent choice for the beginner clarinettist. However, in my opinion, despite the high quality of the instrument, the outfit was always let down a little by the case.
Previously, the B12 came in a rather old fashioned, black plastic case that was, quite frankly, rather ugly! Given the choice between the B12 and the Yamaha YCL250 (now replaced by the YCL255), many young players would choose the 250 as it looked so much nicer… they were the ones who had to carry it to school after all!
However, Buffet have now fought back to win the style conscious beginner clarinettist by designing a superb new case for the Buffet B12 clarinet. This case was made available with instruments from around September 2012 and couldn't be more different from the previous version. The new case for the B12 is still strong and durable but is now practical and looks great!
Continue reading "New Case for the Ever Popular Buffet B12 Clarinet" »