Kay Tucker is launching the new edition of Stringbabies for cello and violin at our Hove shop on Tuesday 14th May at 12.30pm till 1pm. All interested teachers and parents are invited to attend.
A music recital with a difference, starring three 'Stringbabies' musicians aged three, four and five, will launch the latest in a ground-breaking series of books that prove you can teach children to read music before they learn to read words.
Devised by West Sussex cellist Kay Tucker for her pupils, the Stringbabies technique is now being adopted all over the world to teach school tots barely bigger than a full-sized violin.
There will be an introduction to the ground-breaking way of teaching music to children barely able to read which is transforming lessons across the UK. Kay will explain the principles behind the techniques and some of her star Stringbabies, who started learning at age three, will demonstrate this unique learning method.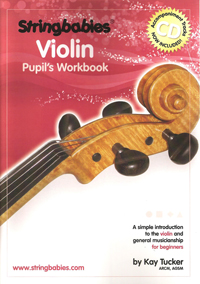 Kay will demonstrate how the method works with the help of three-year-old Lawrence Carter from Haywards Heath,West Sussex, Sasha Nursten, Partridge Green, aged four, and five-year-old Suzannah, also from Haywards Heath at the recital hosted by Ackermans Music in Hove on Tuesday, May 14, during Brighton Festival. It will coincide with several festival music events themed for children.
Kay's unique teaching aids include a family of loveable teddies that children learn to associate with notes before moving on to shapes on a stave. Kay says "The speed at which pupils, even in the nursery, progress through the programme has stunned educationalists, many of whom are now adopting it under the government's access to music scheme".
The new edition of the books now includes a CD. The event will only last about half an hour and there will be an opportunity for book signing at the end.