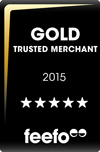 We have been awarded a Gold Trusted Merchant for 2015. This is the second year in a row for us.
Feefo's independent feedback system has been designed to provide product and service reviews you can trust. All reviews are shown on our website (good and bad) and are completely un-edited by us.
The certificate is awarded where 95% of customers have given the company a ranking of "Excellent" or "Good" across a four point scale. Our rating varied over the year between 99% and 100%. Very few retailers have achieved 100% from Feefo.
A big thank you to all our customers who have taken the trouble to write a review. We do read every one of them. Also thank you to all our staff, who have helped us to achieve this high rating.