Yamaha YCL-CSGAIII Custom A Clarinet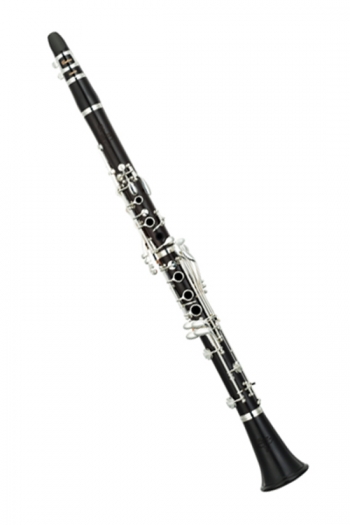 Quick Details
More Links
Yamaha YCL-CSGAIII Custom A Clarinet
The new model of YCL-CSG custom clarinet is a combination of craftsmanship and technology utilising the most advanced techniques. It offers a clear warm tone, suitable for any professional.
The new YCL-CSGIII Custom clarinet is the culmination of years of development. Developed closely with Jerome Voisin, solo clarinet with Orchestre Philharmonique de Radio France, the new CSG has a warm yet focused sound, surrounded by a wealth of overtones, resulting in extraordinary beauty and expression.
The YCL-CSGIII has a new bore treatment, barrel and bell shape and a new silver plating method. This results in a tone of breathtaking richness and depth.
The barrel on the YCL-CSGIII has a thicker wall and is now 1.5mm shorter than the previous model. This new configuration gives the player a deep tone colour with rich resonance as well as creating more resistance.
A change to the tone hole design has maximised the balance between intonation and projection and a new, thicker plating has created a more flexible instrument creating an intense, brilliant sound. This all adds to the instrument's projection.
Features
Custom model professional clarinet
Hand selected African Blackwood (grenadilla) body, unstained, to show the grain
Heavy Silver-plated key work
Cylindrical bore structure, for a clear focused sound
Small taper & undercut tone holes
Shorter barrel (55mm) adding depth to the sound
Lined & raised C#/G# hole, to restrict water entry on this vulnerable note
Special pads with resonators, to enhance clarity
No bell ring, adding warmth and resonance to tone
Ergonomically designed alternate G#/Eb lever
Resonance chamber in bell
2 barrels
Yamaha Custom 5CM mouthpiece
Superior fitted hard double-case and soft outer cover with zipped outer accessory pocket and detachable shoulder strap
Why Buy From Ackerman Music?
Leading Specialist Supplier
We are one of the top suppliers of woodwind, brass and orchestral strings across Sussex and are main agents for most of the instruments we sell. We only list instruments we normally carry in stock.
Full Workshop Facilities
Our instruments are fully checked and set up through our workshop to ensure perfect playing.
Expert Advice
Our team of knowledgeable staff will be only too pleased to answer any queries you have, just call us or drop us an email.
Best Prices
Our buying power enables us to sell instruments at the very best prices you will find. However, should you find an instrument cheaper elsewhere, give us a call on 01273 702444.
Fast, Free Delivery
Instruments are normally dispatched within one working day by secure courier. UK Delivery is free.
Buy With Confidence
All our instruments have at least a 1 year warranty, most have 2 years. We also have a 14 day return policy.
There are no Feefo reviews for this product as yet. Below are independently collected Feefo Service reviews for Ackerman Music.
Date
Score
Customer Comment
18 Minute(s) ago
Service rating : Product received very quickly, great pricing and great selection.
Product : This rosin has been my go-to for years; the quality is still as good now as it was 15 years ago.
2 Hour(s) ago
Service rating : Always helpful in shop and efficient, good value online service. a godsend for all players.
Product : Vandoren reeds seem cheapest here and the speed of delivery is impressive.
3 Hour(s) ago
Service rating : Made an online mail order purchase for a couple of cleaning swabs for my Alto and Tenor saxophone, I received the goods the following day.
Excellent service ! Ackerman Music...... It was a good shopping experience ★★★★★
Product : I have two other pull through swabs for my Tenor saxophone, This Yamaha Monster Swab cleans the saxophone well , and will always be my choice, an excellent product.
16 Hour(s) ago
Service rating : Excellent speedy service
Product : Perfect for my daughters needs
18 Hour(s) ago
Item arrived very promptly and well packaged.
22 Hour(s) ago
Ordered my flute at midday on Monday 8th September and I received it Tuesday 9th September in the morning in Jersey.
27 Hour(s) ago
Service rating : Always prompt delivery. Came the next day and free postage and packaging!
Product : Great!
35 Hour(s) ago
Service rating : Reliable!!!!!! Very please with their customer service. I will recommend Ackerman Music to fellow musicians / students.
Product : Great book as 2nd study pieces. Excellent print quality.
40 Hour(s) ago
Service rating : I didn't find the website all that easy to use in order to find the specific music I was looking for. However, once I found it the site was easy to use and the delivery very quick and efficient.
Product : It wasn't clear what level this book was aimed at - but I can't blame Ackerman for that!
44 Hour(s) ago
Service rating : Thank you - it arrived in double quick time. Very efficient. Also carefully packaged.
Product : Its the copy we are using and was the best price.