Yamaha YCL-CSGAIII Custom A Clarinet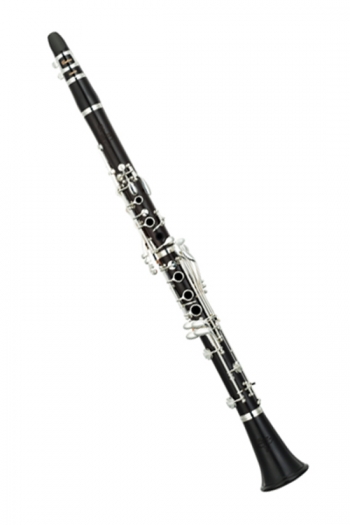 Quick Details
More Links
Yamaha YCL-CSGAIII Custom A Clarinet
The new model of YCL-CSG custom clarinet is a combination of craftsmanship and technology utilising the most advanced techniques. It offers a clear warm tone, suitable for any professional.
The new YCL-CSGIII Custom clarinet is the culmination of years of development. Developed closely with Jerome Voisin, solo clarinet with Orchestre Philharmonique de Radio France, the new CSG has a warm yet focused sound, surrounded by a wealth of overtones, resulting in extraordinary beauty and expression.
The YCL-CSGIII has a new bore treatment, barrel and bell shape and a new silver plating method. This results in a tone of breathtaking richness and depth.
The barrel on the YCL-CSGIII has a thicker wall and is now 1.5mm shorter than the previous model. This new configuration gives the player a deep tone colour with rich resonance as well as creating more resistance.
A change to the tone hole design has maximised the balance between intonation and projection and a new, thicker plating has created a more flexible instrument creating an intense, brilliant sound. This all adds to the instrument's projection.
Features
Custom model professional clarinet
Hand selected African Blackwood (grenadilla) body, unstained, to show the grain
Heavy Silver-plated key work
Cylindrical bore structure, for a clear focused sound
Small taper & undercut tone holes
Shorter barrel (55mm) adding depth to the sound
Lined & raised C#/G# hole, to restrict water entry on this vulnerable note
Special pads with resonators, to enhance clarity
No bell ring, adding warmth and resonance to tone
Ergonomically designed alternate G#/Eb lever
Resonance chamber in bell
2 barrels
Yamaha Custom 5CM mouthpiece
Superior fitted hard double-case and soft outer cover with zipped outer accessory pocket and detachable shoulder strap
Why Buy From Ackerman Music?
Leading Specialist Supplier
We are one of the top suppliers of woodwind, brass and orchestral strings across Sussex and are main agents for most of the instruments we sell. We only list instruments we normally carry in stock.
Full Workshop Facilities
Our instruments are fully checked and set up through our workshop to ensure perfect playing.
Expert Advice
Our team of knowledgeable staff will be only too pleased to answer any queries you have, just call us or drop us an email.
Best Prices
Our buying power enables us to sell instruments at the very best prices you will find. However, should you find an instrument cheaper elsewhere, give us a call on 01273 702444.
Fast, Free Delivery
Instruments are normally dispatched within one working day by secure courier. UK Delivery is free.
Buy With Confidence
All our instruments have at least a 1 year warranty, most have 2 years. We also have a 14 day return policy.
There are no Feefo reviews for this product as yet. Below are independently collected Feefo Service reviews for Ackerman Music.
Date
Score
Customer Comment
8 Hour(s) ago
Service rating : First rate service, I don't think delivery could be any faster!
Product : I always use Rico royal reeds as they suit my needs best.
28-Feb-2015
Service rating : Excellent service, the product arrived within 2 days of ordering.
Product : Excellent, will always use the plasticover reeds as they last longer.
28-Feb-2015
Service rating : Reliable fast service
Product : As expected
28-Feb-2015
Excellent, they were very helpful to get the items sorted from one day to the next one, and get them delivered on the next day. I really appreciate their help and good service
28-Feb-2015
Fantastic service free postage and arrived really quickly. I would highly recommend.
28-Feb-2015
Service rating : Service is just the best! But website needs better search engine which does not show prior searches and often misses existing stock. I often end up using the MusicRoom.com search engine and then buy through Ackerman. Shouldn't have to do that and I'm guessing you are losing business that you could be easily capturing because your service otherwise is so excellent.
Product : Good book.
28-Feb-2015
Service rating : Next day delivery is excellent
Product : Products are not Ackerman's products - Ackerman Music is the supplier, not the producer
27-Feb-2015
haven't used this company before and was delighted by their service. Will come back if I need any other music
27-Feb-2015
Service rating : Always excellent service
Product : I've used these for a while - there seems to be a wide spectrum of hardness and softness in this batch.
27-Feb-2015
Service rating : Excellent, very prompt service
Product : I was already familiar with this publication, having used it in our recorder group before. An excellent collection and very complete set of parts. Highly recommended.