Yamaha CLP675 Clavinova Polished Ebony Finish
To pay and reserve this product click Place On Order and the product will be shipped once back in stock

Quick Details
GrandTouch keyboard with wooden keys
CFX and Bösendorfer Imperial piano samples
Improved Virtual Resonance Modeling
Smooth key release and key-off samples
String and Damper Resonance
16-track recording
USB Audio Recorder and host/device
Over 200 watts of speakers
Bluetooth wireless to iOS/Android devices


Yamaha CLP675 Clavinova Polished Ebony Finish
The new generation GrandTouch keyboard and finely-tuned 3-way speakers bring you the touch and feel of a real grand piano.
With two world-renowned concert grand pianos available at the touch of a button, the CLP Series lets you choose the perfect piano tone for the music you want to play. Offering far more than just sampled sounds, the CLP-600 Series reproduces the Yamaha CFX concert grand and the legendary Bӧsendorfer Imperial in meticulous detail.
When developing GrandTouch keyboard action, Yamaha sought to reproduce the true key resistance that is unique to the grand piano, with greater fidelity. The result is an instrument with a more responsive touch, offering a greater dynamic range than ever before. Now you can experience a much more controlled, nuanced sound when playing softly, or powerful, brighter tones when playing with a stronger touch — just like that of a grand piano.
Connect wirelessly for Bluetooth® audio
You can play music through the audio system on the Clavinova by using a Bluetooth-enabled smart device. You can stream audio data such as mp3 files. You can enjoy playing along with any songs on your smart device, and you can even share your Clavinova performances.
USB Audio Recorder
Record performances to USB flash memory and create audio files you can save and play back on a computer, share with friends or create a CD. Data is saved in WAV format
Other Features
CFX and Bösendorfer Imperial piano samples
CFX Binaural sampling
Improved VRM (Virtual Resonance Modeling)
Smooth Release
Key-Off samples
String Resonance
Damper Resonance
256-note polyphony
36 Voices
GrandTouch keyboard with synthetic ebony and ivory keytops (wood is used for the white keys)
Escapement
88-key Linear Graded Hammers
GP Response Damper Pedal
128 x 64 full dot LCD
Dual / Split / Duo
Digital effects (Reverb/Chorus/Brilliance/Effect)
19 Voice Demo Songs + 50 Piano Songs* + 303 Lesson Songs (*The Clavinova comes with a book of music scores)
20 rhythms
16-track recording
USB Audio Recorder (Playback/Recording: WAV)
USB TO HOST and USB TO DEVICE
Dual headphone jacks
(35 W + 50 W + 20 W) x 2 amplifiers
(16 cm + 8 cm + 5 cm) x 2 speaker system
Speaker Box
Acoustic Optimizer
Intelligent Acoustic Control (IAC)
Stereophonic Optimizer
Music braces
Built-in Bluetooth for wireless connection to iPhone, iPad, iPod Touch or Andoroid
This model is in a traditional Polished Ebony finish.
Delivery
This is a heavy item. Our service includes delivery and set-up in your home, and we will contact you to arrange a delivery time.
Because of our delivery and installation service, we can only supply this instrument if you live within a 50 mile range of one of our shops.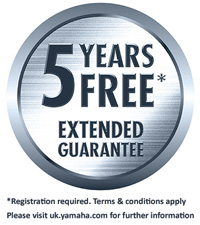 Why Buy From Ackerman Music?
Leading Specialist Supplier
We are one of the leading suppliers of digital pianos across Sussex and are main agents for all of the instruments we sell.
Fully checked instruments
Our pianos are all assembled and fully tested before delivery to ensure they are working as they should (applies to all pianos delivered directly by us).
Expert Advice
Our team of knowledgeable staff will be only too pleased to answer any queries you have, just call us or drop us an email.
Best Prices
Our buying power enables us to sell instruments at the very best prices you will find. However, should you find an instrument cheaper elsewhere, give us a call on 01273 702444.
Fast, Free Delivery
Part of our service on piano's is to deliver & setup your piano in your home (if you live within a 50 mile range). We can also demonstrate some of the features if you like. This all comes free as part of our service.
Buy With Confidence
All our piano's have at least a 2 year warranty. We also have a 14 day return policy.
Come and try one at our new piano showroom in the Brighton shop, where we keep one of each CLP Clavinova model on display.