Yamaha CLP585 Clavinova Black Walnut Satin Finish

Quick Details
Yamaha CLP585 Clavinova Black Walnut Satin Finish
Launched in March 2014, this is the top of the range of CLP Clavinova from Yamaha.
Added features on this model
The CLP585 has finely-tuned 3-way speakers and cabinetry that allow sound to resonate throughout the instrument, giving the ultimate grand piano experience. (16cm + 8cm + 2.5cm) x 2 speakers
The CLP-585 features counterweights (as found on a grand)to adjust key balance and allow delicate pianissimo from anywhere on the key
The 3-way speaker system has dedicated speakers for bass, mid and treble registers
The stylish lid design enables you to open the rotating lid and place music on the stand in one smooth movement
48+480 XG Voices + GM2 / GS (Song file playback
20 voice demo songs
(30W + 30W +30W) x 2 amplifiers
Other Features
Virtual Resonance Modeling - authentic reproduction of internal grand piano reverberations.
Linear grade hammers - reproduce the differences in weight and return of each key separately.
GP response damper pedal - replicates the resistance curve found on grand pianos.
Choose from the Yamaha CFX concert grand, or the Bosendorfer legendary Imperial sound
NWX natural wood keyboard with escapement similar to that used on a grand piano
Enjoy performing with rhythms such as jazz, pop, latin and more (20 rhythms)
Classic solid design
String resonance
USB to host & USB to device
16 track recording
Digital effect (reverb)
Stereophonic optimizer
Dual headphone jacks
Many other features
5 years guarantee from Yamaha
The CLP-585B has a black walnut finish. Also available in polished black ebony finish.
Delivery
This is a heavy item. Our service includes delivery and set-up in your home, and we will contact you to arrange a delivery time.
Because of our delivery service, we can only supply this instrument if you live within a 50 mile range of one of our shops.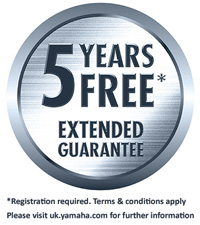 Why Buy From Ackerman Music?
Leading Specialist Supplier
We are one of the leading suppliers of digital pianos across Sussex and are main agents for all of the instruments we sell.
Fully checked instruments
Our pianos are all assembled and fully tested before delivery to ensure they are working as they should (applies to all pianos delivered directly by us).
Expert Advice
Our team of knowledgeable staff will be only too pleased to answer any queries you have, just call us or drop us an email.
Best Prices
Our buying power enables us to sell instruments at the very best prices you will find. However, should you find an instrument cheaper elsewhere, give us a call on 01273 702444.
Fast, Free Delivery
Part of our service on piano's is to deliver & setup your piano in your home (if you live within a 50 mile range). We can also demonstrate some of the features if you like. This all comes free as part of our service.
Buy With Confidence
All our piano's have at least a 2 year warranty. We also have a 14 day return policy.
Come and try one at our new piano showroom in the Brighton shop, where we keep one of each CLP Clavinova model on display.