Fancy trying out an instrument? Our "Pure Rental" scheme enables you to try an instrument at a very moderate cost for as long as you like. No rental term, just a flat rate each month for as long as you want the instrument.
After 3 months, you can either continue renting for as long as you want or purchase a new instrument. We will deduct 50% of all your rental payments from the cost of a new instrument bought from us.
The instruments are normally ex-rental instruments, which have been checked and cleaned in our workshop, ready for their next student. We can not specify the make and model of instrument you will be renting as it will depend on our current stock (apart from Pure Rental Plus). All instruments come as an outfit.
The Scheme
Flexible rental scheme, low cost monthly payments
Minimum 3 months rental - no maximum term (instruments will remain the property of Ackerman Music at all times)
50% of total rental payments deducted when you purchase a new instrument from us
Payment for the first 3 months is by credit or debit card. After that we take the payment monthly by Direct Debit.
Instruments can be returned at any time (minimum of 3 months rental)
"Peace of Mind" insurance cover against loss or damage is included in the rental price. The hirer is responsible for up to £75 of any claim.
Free maintenance for the rental term
The Cost
| | |
| --- | --- |
| Rental Instrument | £ Per Month |
| Flute - Clarinet - Trumpet - Keyboard | £10 |
| Alto Saxophone - Cornet - Trombone | £15 |
| Tenor Saxophone - French Horn - Tenor Horn | £20 |
| Oboe | £30 |
| Digital Piano with stand and pedal | £25 |
| Yamaha Curved Head-Joint for Flute | £5 |
Pure Rental Plus
We now also offer superior quality Yamaha wind instruments on our Pure Rental Scheme for students wishing to get off to the best possible start. We maintain it for you, and give you money off when you are ready to purchase a new instrument.
The scheme is the same as standard Pure Rental - so 50% of your total payments is deducted when you purchase a new instrument.
The Cost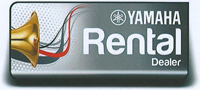 | | |
| --- | --- |
| Rental Instrument | £ Per Month |
| Yamaha Clarinet (YCL255) | £14 |
| Yamaha Trumpet (YTR2330) | £15 |
| Yamaha Flute (YFL211) | £15 |
| Yamaha Trombone (YSL354) | £20 |
| Yamaha Alto Saxophone (YAS280) | £28 |
How do I proceed?
Want to do it by mail-order? Open or save a PDF form which you can fill in and return to us. There is a £7 delivery charge on mail-order rentals. Pianos can only be delivered locally and there is a £10 delivery charge.
You can give us a call on 01273 702444 and speak to a member of staff who will be happy to talk you through our online form.
Pop in to one of our shops and we can arrange everything there and then.
View full details of Pure Rental here (pdf).