Digital Piano Deliveries in Sussex
February 19th, 2013 | Posted by in
Keyboards

If you are looking to buy a digital piano and live within the Sussex area, then come to Ackerman Music. As well as our normal free delivery service, we can offer a bit more. We can personally deliver your piano at a time to suit you, and set it up for you in your home. We will build it for you in one of our shops and check it is working correctly, then deliver & connect it for you when we arrive. We can also show you the main features of your particular model. All this is included at no extra charge.
We have a range of pianos available from Yamaha, Casio and Korg. Our Brighton store has the best range on view should you wish to come and see the differences. The relevant pages on our website also show which of our shops has each instrument currently in stock. It can be seen on the tab marked "in store availability" as shown below.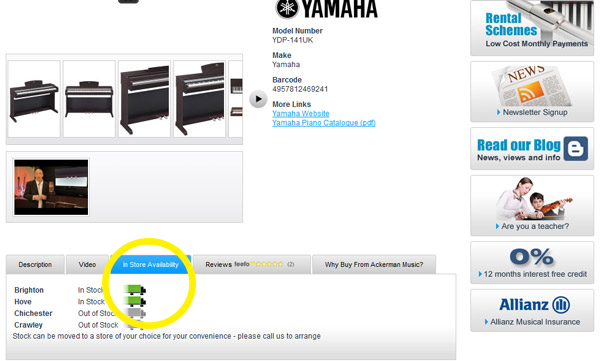 You can follow any responses to this entry through the RSS 2.0 Responses are currently closed, but you can trackback.