ABRSM Music Theory exams are changing.
September 1st, 2017 | Posted by in
Uncategorized
Starting in 2018 ABRSM are introducing a new format to their music theory exams. Here's our short guide to help you (or your students) prepare for these changes.
What is being changed?
Grades 1 – 5 only. The grades 6 – 8 will remain unchanged.
What will the differences be?
The examples included are taken from ABRSM's free practice papers
There will now be multiple choice answers for the musical terms and symbols question:

Cleaning up the time signature questions (grades 1 – 3):

Simplifying the layout of the intervals questions (grades 4 -5):

Simplifying the layout of the cadence question (grade 5)

A few exam questions are being replaced: the rhythm, melody and word writing sections, and the SATB short/open score questions will be replaced with questions focused on specific areas of theory knowledge.
What's not changing?
The syllabus has not changed, meaning the same knowledge level will be required at each grade. The past papers and theory workbooks remain good resources for training and testing the appropriate theory knowledge, however the past papers will obviously not help students familiarise themselves with the exam format.
To help this ABRSM have produced a free set of downloadable practice papers (2 for each grade) on their website. Printed practice papers will be available to purchase from January 2018. You can also test the difficulty of their multiple choice questions with an interactive quiz here.
What does this all mean?
ABRSM have ruffled a few feathers with this change. The theory exams have been largely the same for the last 25 years, and were probably overdue an update. The rhythm, melody and word setting elements are the more "creative" parts of the exam, so removing them shifts the focus away from applied general musicianship and more towards testing musical knowledge. This makes the exams a bit more user-friendly and easier to mark, as the creative elements often require interpretation from the examiner.
I'm sure ABRSM (and we) are hoping that these new format exams are suitable for a wide range of students, and might encourage more young people to learn about music, and learn an instrument to a high level.
ABRSM stated that as their syllabus has not changed, the current learning material is still valid going into 2018. The full range is available here.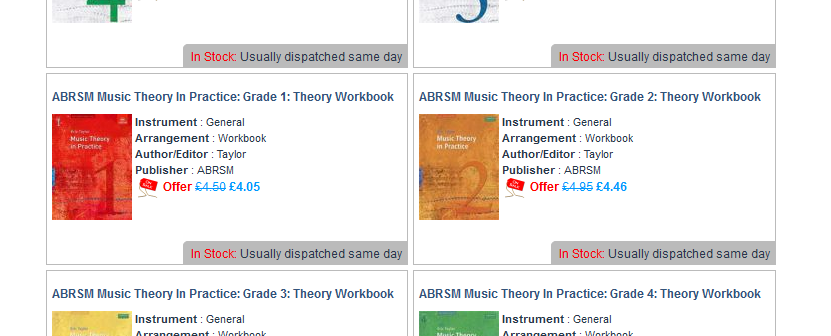 Thanks for reading, if you have any questions please leave a comment,
You can follow any responses to this entry through the RSS 2.0 You can leave a response, or trackback.