Jumbie Jam Steel Pan Kit With Book & CD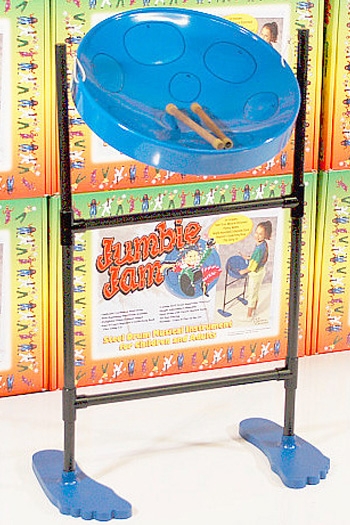 To pay and reserve this product click Place On Order and the product will be shipped once back in stock
Quick Details
Beginner steel pan
Height-adjustable, collapsable stand
Mallets
Instructional booklet & CD
Jumbie Jam Steel Pan Kit With Book & CD
The Jumbie Jam Steel Pan from Panyard is thought to be the world's best beginner steel drum.
Includes
Jumbie Jam Pan
Height-adjustable, collapsable stand with fun feet
Mallets
Instructional booklet, containing a Play-Along CD, Music for 5 tunes and educational material about Pan
Available in blue or purple
There are many beginner pans, but only the Jumbie Jam produces a sound that matches that of a professional quality instrument.
Why Buy From Ackerman Music?
Leading Specialist Supplier
We are one of the top suppliers of woodwind, brass and orchestral strings across Sussex and are main agents for most of the instruments we sell. We only list instruments we normally carry in stock.
Full Workshop Facilities
Our instruments are fully checked and set up through our workshop to ensure perfect playing.
Expert Advice
Our team of knowledgeable staff will be only too pleased to answer any queries you have, just call us or drop us an email.
Best Prices
Our buying power enables us to sell instruments at the very best prices you will find. However, should you find an instrument cheaper elsewhere, give us a call on 01273 702444.
Fast, Free Delivery
Instruments are normally dispatched within one working day by secure courier. UK Delivery is free.
Buy With Confidence
All our instruments have at least a 1 year warranty, most have 2 years. We also have a 14 day return policy.
Colour : Blue
Colour : Purple
There are no Feefo reviews for this product as yet. Below are independently collected Feefo Service reviews for Ackerman Music.
Date
Score
Customer Comment
19 Hour(s) ago
Service rating : Very fast easy to use service. And free postage that day! That's why I chose Ackerman. Thanks.
Product : Nice variety of sounds from the one mute. Expensive for what it is but I understand that as it is handmade.
22 Hour(s) ago
Service rating : Excellent service and free delivery a fantastic bonus
Product : good piece really enjoyable
22 Hour(s) ago
great personal service
22 Hour(s) ago
Service rating : As always, fast and reliable service
Product : Tricky keys for beginner violins.
23 Hour(s) ago
Service rating : My purchase arrived quickly.
Product : It's too early to say yet. These reeds are expensive but should have a long life. Mine plays beautifully so far!
23 Hour(s) ago
Service rating : Website was easy to use and informative. Bag was delivered quickly and I was kept informed of the progress of my order.
Product : The bag is as described and appears to be of very good quality. Only time will tell how robust it is but it certainly looks like it will last.
26 Hour(s) ago
Very fast service. Goods arrived next day
24-Oct-2014
Service rating : Good price, quick delivery, product as described
Product : Happy with book.
23-Oct-2014
Service rating : Brilliant company! Always buy from them
Product : Wonderful sound
23-Oct-2014
Small problem with address label error, sorted quickly.