Jumbie Jam Steel Pan Kit With Book & CD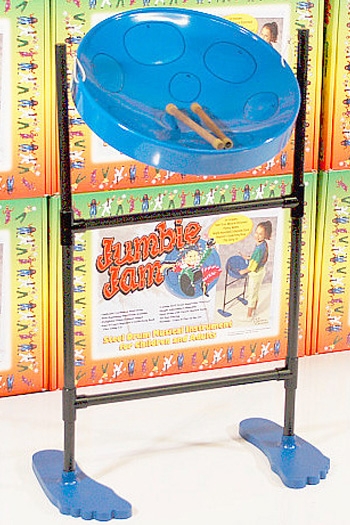 To pay and reserve this product click Place On Order and the product will be shipped once back in stock
Quick Details
Beginner steel pan
Height-adjustable, collapsable stand
Mallets
Instructional booklet & CD
Jumbie Jam Steel Pan Kit With Book & CD
The Jumbie Jam Steel Pan from Panyard is thought to be the world's best beginner steel drum.
Includes
Jumbie Jam Pan
Height-adjustable, collapsable stand with fun feet
Mallets
Instructional booklet, containing a Play-Along CD, Music for 5 tunes and educational material about Pan
Available in blue or purple
There are many beginner pans, but only the Jumbie Jam produces a sound that matches that of a professional quality instrument.
Why Buy From Ackerman Music?
Leading Specialist Supplier
We are one of the top suppliers of woodwind, brass and orchestral strings across Sussex and are main agents for most of the instruments we sell. We only list instruments we normally carry in stock.
Full Workshop Facilities
Our instruments are fully checked and set up through our workshop to ensure perfect playing.
Expert Advice
Our team of knowledgeable staff will be only too pleased to answer any queries you have, just call us or drop us an email.
Best Prices
Our buying power enables us to sell instruments at the very best prices you will find. However, should you find an instrument cheaper elsewhere, give us a call on 01273 702444.
Fast, Free Delivery
Instruments are normally dispatched within one working day by secure courier. UK Delivery is free.
Buy With Confidence
All our instruments have at least a 1 year warranty, most have 2 years. We also have a 14 day return policy.
Colour : Blue
Colour : Purple
There are no Feefo reviews for this product as yet. Below are independently collected Feefo Service reviews for Ackerman Music.
Date
Score
Customer Comment
6 Hour(s) ago
Service rating : Very prompt; music received next day
Product : I could have done without the "free" CD but that is the fault of ABRSM, not Ackerman Music
7 Hour(s) ago
Service rating : product was easy to find on the site.
Product : product was as described.
7 Hour(s) ago
Fast delivery.
9 Hour(s) ago
Fast service
11 Hour(s) ago
Service rating : very prompt service
Product : here's hoping its good as its a christmas present for my grandaughter who is at a music conservatoir
20 Hour(s) ago
Service rating : Prompt delivery and a good price for the item I bought.
Product : It is a monster and it only just fits in my sax case with all the other stuff I tend to carry, but it really does clean the moisture out. It's much better than those cloths with a spring behind them which tend to get stuck so often and even then miss cleaning half the bore. Thoroughly recommended.
27 Hour(s) ago
I used the "tell me when this product is in stock" facility which worked brilliantly. Communication about my order was reliable and it arrived on time. Can't fault the service.
32 Hour(s) ago
Service rating : Excellent seller super fast delivery....RECOMMENDED
Product : Super quality and at a price that's hard to beat.
33 Hour(s) ago
Service rating : Very quick delivery for free - brill!
Product : They're a Christmas present but look lovely!!
19-Nov-2014
The web site is very good, and the items wanted are easy to find, be they sheet music or instruments.