Henle Original Music Engraving Plate - Debussy Arabesque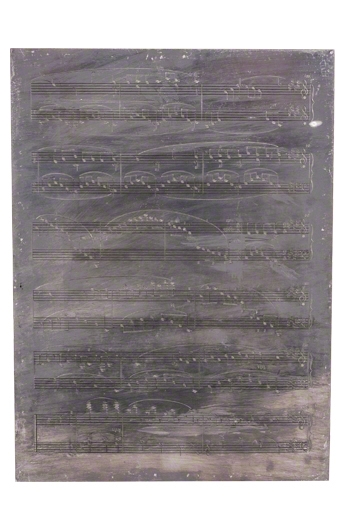 Quick Details
Original engraving plate
Made from zinc, antimony and lead
Engraved by hand
Debussy's Arabesque No. 1
Henle Original Music Engraving Plate - Debussy Arabesque
This original music engraving plate was engraved by hand and used on Henle Verlag's printing press to produce music for Debussy's Araberque No 1. The printing plate makes an interesting and unique present, own something a little different!
Made from zinc, antimony and lead and a little over A4 in size, this plate would look fantastic spotlit in a frame on your wall.
There are no Feefo reviews for this product as yet. Below are independently collected Feefo Service reviews for Ackerman Music.
Date
Score
Customer Comment
4 Hour(s) ago
Service rating : Very good fast delivery.
Product : Exactly what I wanted thanks
10 Hour(s) ago
fast efficient service and good value
17 Hour(s) ago
Service rating : Prompt delivery
Product : Would be better with cord/ribbon to prevent top opening flat.
21 Hour(s) ago
Service rating : Quick delivery excellent service
Product : Great book
43 Hour(s) ago
Fantastic, such quick service, very efficient. Thank you.
23-Apr-2015
Service rating : This was delivered quickly and free, so no complaints there.
Minor niggle - the box that the reeds came delivered in was fairly flimsy and subsequently was squashed in transit by the time it dropped in my letterbox.
So would be good if the reeds were sandwiched with stiffer cardboard in future.
I've only opened one of the reeds which was undamaged.
Would definitely order from Ackerman's in future.
Product : 1st time I've used this brand and I'm impressed.
I also liked the fact that the reeds are individually factory sealed.
23-Apr-2015
Next day delivery as usual. Brilliant company!
23-Apr-2015
Best price that I found and super speedy delivery.
23-Apr-2015
It´s not a good idea to write, that there are no costs for delivery, and after buying you have to read, that there are 8 Punds for delivery.
23-Apr-2015
As ever, super-speedy delivery and free as well! Never been let down by Ackermann.