Henle Original Music Engraving Plate - Debussy Arabesque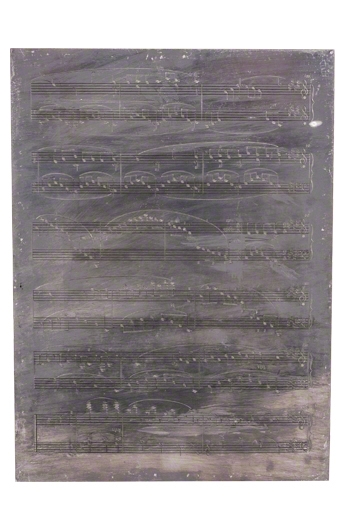 Henle Original Music Engraving Plate - Debussy Arabesque
This original music engraving plate was engraved by hand and used on Henle Verlag's printing press to produce music for Debussy's Araberque No 1. The printing plate makes an interesting and unique present, own something a little different!
Made from zinc, antimony and lead and a little over A4 in size, this plate would look fantastic spotlit in a frame on your wall.
There are no Feefo reviews for this product as yet. Below are independently collected Feefo Service reviews for Ackerman Music.
Date
Score
Customer Comment
18 Hour(s) ago
Service rating : VERY PROMPT SERVICE
Product : VERY CONSISTENT - VERY PLEASED
27 Hour(s) ago
Very fast dispatch and delivery
34 Hour(s) ago
Service rating : Fast, efficient service
Product : Very good
43 Hour(s) ago
Good - however you are let down by your COURIER SERVICE - I paid £ 6.50 for the next day courier and it arrived too late in the day for it to be of use as I needed everything for a music course that day. I should have had the usual free 1st class delivery service which would arrived at 10am. I won't be using the courier service again - Complete waste of money.
44 Hour(s) ago
Service rating : My reeds came quick and at a really good price
Product : My sax reeds came quick,and at a really good price
27-Jul-2015
Service rating : Good
Product : Good
26-Jul-2015
Service rating : Very good service
Product : Just what I needed
26-Jul-2015
After receiving the wrong item first time I called the company and explained the error.
The response was excellent from the on-set, the correct instrument was delivered to my door by their own van within a day, their attitude was very positive and good , I will not hesitate to use Ackerman Music for all our needs in the future.
26-Jul-2015
Service rating : Outstanding service every time.
Product : Great piece.
25-Jul-2015
Excellent service. Even had a phone call to reassure me the pieces were in stock and would be sent from different shops to ensure I received them in time for the end of year concert!