New Era Finger Drum With Mallet - 5 X 4 Inch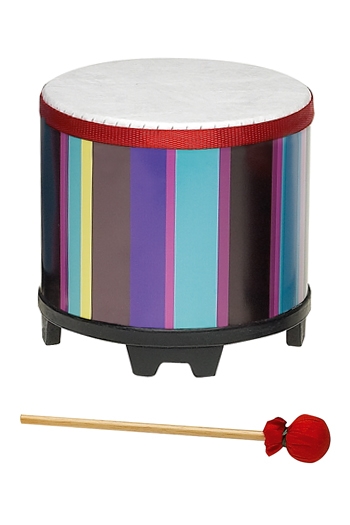 To pay and reserve this product click Place On Order and the product will be shipped once back in stock
New Era Finger Drum With Mallet - 5 X 4 Inch
New Era 5 x 4" finger drum by Premier.
Multi-coloured sides
Mallet included
Part of the re-launched New Era range of instruments made famous in the 1950's by Premier.
This specialist range of tuned and untuned percussion has been specifically designed to support the tuition of music in schools. Premier have worked closely with teachers and music education in the development of New Era. Not only does New Era support the Orff-Schulwerk methods of musical exploration but it also provides the sounds and performance opportunities for teachers and pupils across the whole curriculum.
There are no Feefo reviews for this product as yet. Below are independently collected Feefo Service reviews for Ackerman Music.
Date
Score
Customer Comment
1 Hour(s) ago
Service rating : Not only arrived the item quickly.Also my delivery requests have been taken seriously.Item arrived in as expected condition.Well done.
Product : Condition of the book itself excellent.However not really sure if I would recommend the Book again.A bit hard to follow and I miss a real structure.
Altogether good service from Ackerman.
6 Hour(s) ago
Service rating : Product reached me in good time.
Product : Clarinet pull through cleaner starting to come loose after first use and will need re-stitching.
10 Hour(s) ago
Very fast service, fast communications and good packaging
13 Hour(s) ago
Service rating : No complaints good service
Product : Quick delivery and a very competitive price!
13 Hour(s) ago
Service rating : Thank you for sending this out so promptly.
Product : A great book and very helpful for the developing trumpet or cornet player.
13 Hour(s) ago
Brilliant service: fast, free post & packing, and best price I could find for the device
14 Hour(s) ago
Service rating : Ordered and delivered the next day.
Product : Very clear and easy to understand. My little girl is very pleased with it.
15 Hour(s) ago
Service rating : Excellent customer service transaction. Very fast delivery.
Product : Better than expected. I can practice without disturbing anyone. The mute has limited resistance so tone quality is not affected. I am happy.
15 Hour(s) ago
Service rating : Brilliant shop, though it was just a tiny fridge magnet instrument I bought from then the service was excellent and delivery was super fast. Thank you
Product : The miniature classical guitar and treble clef fridge magnets were for a craft project and I have to say they far exceeded what I was expecting, the detail on the guitar was amazing it was just like a full size one, so realistic my customer was over the moon. Thank you
16 Hour(s) ago
Service rating : The music was not in stock originally, and an adviser estimated it would be available in the next 2 working days. After a phone call 4 working days later a promise was given to chase the matter up and to get the music delivered in the next 3 working days. This was done.
Product : Excellent packaging, good quality.