Melodic Minor Guitar: Tutor (Thornton School Of Music)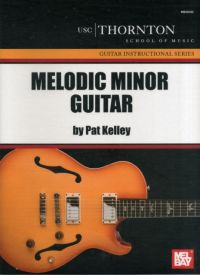 To pay and reserve this product click Place On Order and the product will be shipped once back in stock
Melodic Minor Guitar: Tutor (Thornton School Of Music)
Melodic Minor Guitar will help you learn fingerings for the melodic minor scale while discovering the magical Augmented Major 7th chord and arpeggio that is found within it. Scale and arpeggio fingering positions are coordinated in a way that will simplify things and have you making music in no time at all.
Modes and chords of the melodic minor scale are explained along with written examples that demonstrate melodic ideas over common chord progressions. You will also find an entire solo written on the changes of a popular jazz standard, plus many colorful chord voicings derived from the melodic minor scale.
Arrangement
Guitar Notation And Tab
Publisher Number
MLB30022
There are no Feefo reviews for this product as yet. Below are independently collected Feefo Service reviews for Ackerman Music.
Date
Score
Customer Comment
17 Hour(s) ago
Service rating : Great choice, speedy delivery, many thanks
Product : Great book !
20 Hour(s) ago
Service rating : I have marked this as good because up to my last order I have always received my order the next day. This time I waited three days. To be fair this could have been down to the Royal Mail and not Ackerman......
Product : Always in good condition
30-Aug-2014
Service rating : excellent
Product : excellent
30-Aug-2014
Service rating : Very speedy service. Always next day delivery. Excellent.
Product : Excellent product. Have used for many years as I find the reeds of consistent good quality.
29-Aug-2014
Service rating : Very good communication from Ackerman and immediate dispatch.
Product : Easy to use, sofar seems to do the job.
28-Aug-2014
Quick delivery, item as described, thanks
28-Aug-2014
Very speedy delivery again
28-Aug-2014
Service rating : Very quick, polite service.
Product : It's printed music, what do you expect?
27-Aug-2014
Service rating : Was impressed that there was no extra charge for the 1-2 day delivery.
Product : Have only tried it briefly, but it certainly will improve my home rehearsals.
27-Aug-2014
Lovely and kind service.