Melodic Minor Guitar: Tutor (Thornton School Of Music)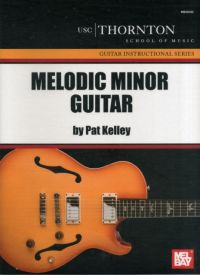 To pay and reserve this product click Place On Order and the product will be shipped once back in stock
Melodic Minor Guitar: Tutor (Thornton School Of Music)
Melodic Minor Guitar will help you learn fingerings for the melodic minor scale while discovering the magical Augmented Major 7th chord and arpeggio that is found within it. Scale and arpeggio fingering positions are coordinated in a way that will simplify things and have you making music in no time at all.
Modes and chords of the melodic minor scale are explained along with written examples that demonstrate melodic ideas over common chord progressions. You will also find an entire solo written on the changes of a popular jazz standard, plus many colorful chord voicings derived from the melodic minor scale.
Arrangement
Guitar Notation And Tab
Publisher Number
MLB30022
There are no Feefo reviews for this product as yet. Below are independently collected Feefo Service reviews for Ackerman Music.
Date
Score
Customer Comment
27 Hour(s) ago
Service rating : Excellent price and fast delivery. Would recommend this company.
Product : My daughter had to have this book for her flute tuition. She is very pleased with the purchase.
28 Hour(s) ago
Service rating : Excellent service as usual
Product : Really pleased with the last plastic cover reeds I bought. Much more reliable than ordinary reeds
28 Hour(s) ago
I can't fault Ackerman's service. Fast and efficient!
37 Hour(s) ago
Service rating : The service is always good. The reeds came very quickly.
Product : Tried these reeds for the first time on the recommendation of my teacher. They're great. Do try them; they are really responsive.
37 Hour(s) ago
Service rating : Quick delivery and good quality products.
Product : Just to note: Photo was of 1.5 strength, but when I confirmed the order it said 2. But I am still happy with 2 so proceeded.
47 Hour(s) ago
Always a quick service, free next day delivery.I recommend them to all my students. A fantastic local company who have never let me down.
24-Jan-2015
super efficient swift service in all my transactions with Ackermans A1
24-Jan-2015
Excellent quick delivery. Would recommend company to friends and family.
23-Jan-2015
Free delivery and dispatched within about an hour of placing the order. Arrived the next morning. I will definitely use you again!
23-Jan-2015
Very quick service, will be back!