Hobbit: Song Of The Lonley Mountian; Piano Vocal Guitar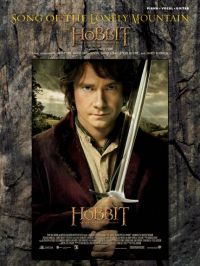 Hobbit: Song Of The Lonley Mountian; Piano Vocal Guitar
Played during the end credits to Peter Jackson's epic film adaptation of J.R.R. Tolkien's book, The Hobbit, The Song Of The Lonely Mountain is a ballad with atmosphere to match the film. This official sheet music for the song has been expertly arranged for Piano and Voice with Guitar chord boxes.
Composed on a dwarven theme by Australian Folk artist, Neil Finn, The Song Of The Lonely Mountain builds steadily to evoke the journey to the Misty Mountain; chants and anvil beats conjure images of miners hard at work in the depths on the earth.
The Song Of The Lonely Mountain was performed by Neil Finn with his sons Elroy and Liam.
Instrument
Piano, Vocal & Guitar Chords
Arrangement
Piano Vocal Guitar Chords
Publisher
Wise Publications
Publisher Number
AM1005961
There are no Feefo reviews for this product as yet. Below are independently collected Feefo Service reviews for Ackerman Music.
Date
Score
Customer Comment
2 Hour(s) ago
Great service! Free speedy delivery
17 Hour(s) ago
Service rating : First rate service, I don't think delivery could be any faster!
Product : I always use Rico royal reeds as they suit my needs best.
28-Feb-2015
Service rating : Excellent service, the product arrived within 2 days of ordering.
Product : Excellent, will always use the plasticover reeds as they last longer.
28-Feb-2015
Service rating : Reliable fast service
Product : As expected
28-Feb-2015
Excellent, they were very helpful to get the items sorted from one day to the next one, and get them delivered on the next day. I really appreciate their help and good service
28-Feb-2015
Fantastic service free postage and arrived really quickly. I would highly recommend.
28-Feb-2015
Service rating : Service is just the best! But website needs better search engine which does not show prior searches and often misses existing stock. I often end up using the MusicRoom.com search engine and then buy through Ackerman. Shouldn't have to do that and I'm guessing you are losing business that you could be easily capturing because your service otherwise is so excellent.
Product : Good book.
28-Feb-2015
Service rating : Next day delivery is excellent
Product : Products are not Ackerman's products - Ackerman Music is the supplier, not the producer
27-Feb-2015
haven't used this company before and was delighted by their service. Will come back if I need any other music
27-Feb-2015
Service rating : Always excellent service
Product : I've used these for a while - there seems to be a wide spectrum of hardness and softness in this batch.