Hobbit: Song Of The Lonley Mountian; Piano Vocal Guitar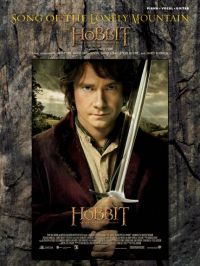 Hobbit: Song Of The Lonley Mountian; Piano Vocal Guitar
Played during the end credits to Peter Jackson's epic film adaptation of J.R.R. Tolkien's book, The Hobbit, The Song Of The Lonely Mountain is a ballad with atmosphere to match the film. This official sheet music for the song has been expertly arranged for Piano and Voice with Guitar chord boxes.
Composed on a dwarven theme by Australian Folk artist, Neil Finn, The Song Of The Lonely Mountain builds steadily to evoke the journey to the Misty Mountain; chants and anvil beats conjure images of miners hard at work in the depths on the earth.
The Song Of The Lonely Mountain was performed by Neil Finn with his sons Elroy and Liam.
Instrument
Piano, Vocal & Guitar Chords
Arrangement
Piano Vocal Guitar Chords
Publisher
Wise Publications
Publisher Number
AM1005961
There are no Feefo reviews for this product as yet. Below are independently collected Feefo Service reviews for Ackerman Music.
Date
Score
Customer Comment
2 Hour(s) ago
Service rating : Product reached me in good time.
Product : Clarinet pull through cleaner starting to come loose after first use and will need re-stitching.
6 Hour(s) ago
Very fast service, fast communications and good packaging
9 Hour(s) ago
Service rating : No complaints good service
Product : Quick delivery and a very competitive price!
9 Hour(s) ago
Service rating : Thank you for sending this out so promptly.
Product : A great book and very helpful for the developing trumpet or cornet player.
9 Hour(s) ago
Brilliant service: fast, free post & packing, and best price I could find for the device
10 Hour(s) ago
Service rating : Ordered and delivered the next day.
Product : Very clear and easy to understand. My little girl is very pleased with it.
11 Hour(s) ago
Service rating : Excellent customer service transaction. Very fast delivery.
Product : Better than expected. I can practice without disturbing anyone. The mute has limited resistance so tone quality is not affected. I am happy.
11 Hour(s) ago
Service rating : Brilliant shop, though it was just a tiny fridge magnet instrument I bought from then the service was excellent and delivery was super fast. Thank you
Product : The miniature classical guitar and treble clef fridge magnets were for a craft project and I have to say they far exceeded what I was expecting, the detail on the guitar was amazing it was just like a full size one, so realistic my customer was over the moon. Thank you
12 Hour(s) ago
Service rating : The music was not in stock originally, and an adviser estimated it would be available in the next 2 working days. After a phone call 4 working days later a promise was given to chase the matter up and to get the music delivered in the next 3 working days. This was done.
Product : Excellent packaging, good quality.
24 Hour(s) ago
Service rating : Fabulous customer service, speedy delivery - in fact ordered at 3.30pm on Monday and delivered on Tuesday morning. I'll be using Ackerman for all my future music purchases. Thank you!
Product : Exactly as was ordered.