Casio CTK-6200 Digital Keyboard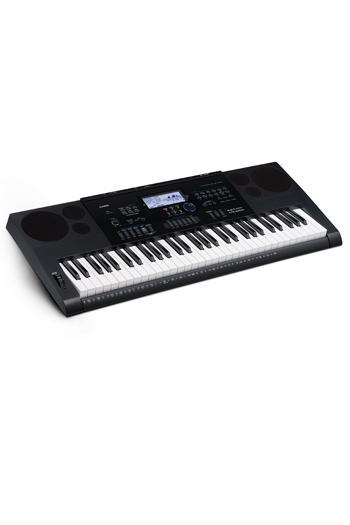 Quick Details
More Links
Casio CTK-6200 Digital Keyboard
The CTK-6200 high-grade keyboard offers a wide range of comprehensive functions, including sound and rhythm editing, a studio-quality effects section and hundreds of realistic instrument and synthesiser tones – all contained in a new, modern case design. Store your creations simply using an SD memory card, connect to a PC and even produce your own hits. This creative instrument is for keyboard fans who appreciate total musical flexibility and high-quality sound.
Tone Editor
As well as 700 high quality preset tones on board, but the CTK6200 also features a tone editor. The attack time, release time, cutoff, vibrato, reverb/chorus, DSP and other parameters of a built-in tone can be adjusted and edited and saved into one of the 10 available User Tones.
Multiple Digital Effects
Built in effects include reverb (10 types) chorus (5 types) and DSP (100 preset, 100 user) utilizing 46 DSP types including delay, phaser, flanger, wah, rotary and more. By adjusting the parameters of the DSP effects you can create up to 100 of your own effects. *DSP and chorus cannot be used simultaneously. Also included are 5 preset EQ settings.
Song Sequencer
17-track song sequencer (16 tracks + 1 system track) acts as a multi-track recorder, so you can use it for real time recording of your keyboard play. 17 tracks mean that you can perform multi-track recording to layer multiple tones to compose your own songs. Powerful editing options include copy, paste, quantize, event edit and more. Completed recordings can be converted to SMF (Standard MIDI File) format and stored to an SD memory card, or backed up onto a computer.
32-Channel Mixer
Adjustment of volume, pan, reverb send and other parameters for each track can be manipulated in Mixer mode using the speed dial wheel.
Rhythm Editor
The rhythm editor function allows you to edit the built-in auto accompaniments and create your own by changing parameters such as tone, pan, track on/off, reverb and more.
Music Preset
Music presets provide one-touch access to auto accompaniment, tone, reverb and other settings that are configured in accordance with representative chord progressions. A total of 305 presets let you easily configure the keyboard for a wide variety of different musical styles. In addition to built-in presets, you can create your own original presets (user presets) and store them in memory for later recall.
Why Buy From Ackerman Music?
Leading Specialist Supplier
We are one of the top suppliers of woodwind, brass and orchestral strings across Sussex and are main agents for most of the instruments we sell. We only list instruments we normally carry in stock.
Full Workshop Facilities
Our instruments are fully checked and set up through our workshop to ensure perfect playing.
Expert Advice
Our team of knowledgeable staff will be only too pleased to answer any queries you have, just call us or drop us an email.
Best Prices
Our buying power enables us to sell instruments at the very best prices you will find. However, should you find an instrument cheaper elsewhere, give us a call on 01273 702444.
Fast, Free Delivery
Instruments are normally dispatched within one working day by secure courier. UK Delivery is free.
Buy With Confidence
All our instruments have at least a 1 year warranty, most have 2 years. We also have a 14 day return policy.
There are no Feefo reviews for this product as yet. Below are independently collected Feefo Service reviews for Ackerman Music.
Date
Score
Customer Comment
13 Minute(s) ago
Excellent stock, excellent product range, fast delivery but to the wrong address this time. Hence haven't tried any of the books yet. First time I've been let down by ackerman so can't down rate too much.
43 Minute(s) ago
Service rating : Brilliant even got an e-mail to say delay on part of order and phone call to explore choices. Really efficient set up.. Many thanks definitely come back.
Product : Not delivered yet
7 Hour(s) ago
Fast delivery! Very nicely packed! Definitely buy again from you! Thank you!
10 Hour(s) ago
Service rating : Not only arrived the item quickly.Also my delivery requests have been taken seriously.Item arrived in as expected condition.Well done.
Product : Condition of the book itself excellent.However not really sure if I would recommend the Book again.A bit hard to follow and I miss a real structure.
Altogether good service from Ackerman.
15 Hour(s) ago
Service rating : Product reached me in good time.
Product : Clarinet pull through cleaner starting to come loose after first use and will need re-stitching.
19 Hour(s) ago
Very fast service, fast communications and good packaging
22 Hour(s) ago
Service rating : No complaints good service
Product : Quick delivery and a very competitive price!
22 Hour(s) ago
Service rating : Thank you for sending this out so promptly.
Product : A great book and very helpful for the developing trumpet or cornet player.
22 Hour(s) ago
Brilliant service: fast, free post & packing, and best price I could find for the device
23 Hour(s) ago
Service rating : Ordered and delivered the next day.
Product : Very clear and easy to understand. My little girl is very pleased with it.