100 Years Of Popular Music 80s: Vol.2: Piano Vocal Guitar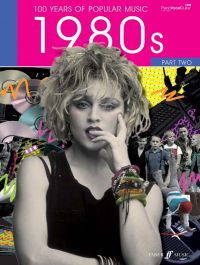 100 Years Of Popular Music 80s: Vol.2: Piano Vocal Guitar
100 years of popular music chronicles the greatest music of the last century. This book contains more than 70 songs from the 1980s arranged for piano, voice and guitar, providing a fascinating insight into the music of the era. A listing of new inventions first seen during the 1980s is also included.
more
# Iíve Had) The Time Of My Life
# 99 Red Balloons
# A New Flame
# A View To A Kill
# Absolute Beginners
# All At Once
# Always
# Anything For You
# Babooshka
# Baby Come To Me
# Being With You
# Billie Jean
# Breakout
# Call Me
# Canít Stay Away From You
# Careless Whisper
# Caught Up In The Rapture
# Chariots Of Fire
# Come On Eileen
# Do They Know Itís Christmas? (Feed The World)
# Donít You Want Me
# Everything Must Change
# Eye Of The Tiger
# Fame
# For Your Eyes Only
# Friends Will Be Friends
# Happy Birthday
# Happy Talk
# Heaven
# Holding Back The Years
# Holding Out For A Hero
# How Am Is Supposed To Live Without You
# I Am What I Am
# I Donít Wanna Dance
# I Should Have Known Better
# I Want To Break Free
# I Wonít Let The Sun Go Down On Me
# If I Could Turn Back Time
# Iím So Excited
# Iím Still Standing
# Is This Love?
# Japanese Boy
# Keep On Loving You
# Kids In America
# Land Of Make Believe
# Manic Monday
# Miss You Like Crazy
# Missing You
# My One Temptation
# Nine To Five
# On The Beach
# On The Wings Of Love
# One Moment In Time
# Orinoco Flow
# Papa Donít Preach
# Piano In The Dark
# Save A Prayer
# See The Day
# Sheís Like The Wind
# St. Elmoís Fire (Man In The Motion)
# Superwoman
# Tainted Love
# Tell Me Thereís A Heaven
# The Girl Is Mine
# The King Of Rock íní roll
# The Power Of Love
# Total Eclipse Of The Heart
# Upside Down
# Wake Me Before You Go-Go
# Walking On Sunshine
# You Bring Me Joy
# Zoom.
Instrument
Piano, Vocal & Guitar Chords
Arrangement
Piano Vocal Guitar
Category
Popular Collection
Series
Publisher Number
057153354X
Sorry, store availability can not be displayed for this product as it has multiple options.
Items are normally in stock, but please call to check before your visit.
There are no Feefo reviews for this product as yet. Below are independently collected Feefo Service reviews for Ackerman Music.
Date
Score
Customer Comment
13 Hour(s) ago
Excellent quick service
13 Hour(s) ago
Delivery was magnificently speedy. You offer an excellent selection of products at a reasonable price. Well done.
30 Hour(s) ago
Brilliant postal service
33 Hour(s) ago
Service rating : Website easy to use. packaged well and delivered on time
Product : Great product - my daughter (9) finds this comfortable
33 Hour(s) ago
Good prices, fast delivery
35 Hour(s) ago
prompt delivery, will buy from this seller again
36 Hour(s) ago
Service rating : Competitive pricing and rapid, well packaged delivery. Will use again.
Product : Well written challenging studies with good melodic structure and interest.
36 Hour(s) ago
Service rating : Very prompt, efficient service!
Product : I was extremely surprised to receive the oboe reed wrapped in kitchen paper and cardboard - normally the ones I order come in a protective plastic tube container. I have yet to try out the reed as have been poorly but doubt the delivery method is a good idea for something so very fragile. I am reluctant to order again from this company sadly, in spite of the prompt service and price.
37 Hour(s) ago
Great service, ordered on Saturday and the book was here on Monday!
22-May-2013
Service rating : Very impressed by speed of delivery and willingness to deliver one item as far as Bristol in the company van. Postal delivery may well have entailed damage to the piano. Lovely and helpful delivery man.
Product : Am not an experienced pianist but am very pleased with the sound quality, which is more than adequate for my beginner son.