100 Easy To Play All Time Favourite Hymns: Piano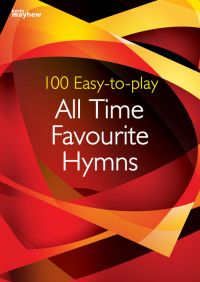 'Place On Order' - To pay and reserve this product click Place On Order and the product will be shipped once back in stock
100 Easy To Play All Time Favourite Hymns: Piano
100 best-loved hymns for Grade 1-2 ability
more
A new commandment
Abide with me
All creatures of our God and King
All hail the power of Jesusí name
All my hope on God is founded
All people that on earth do dwell
All things bright and beautiful
All who would valiant be
All you who seek a comfort sure
Alleluia, sing to Jesus
Amazing grace
As with gladness men of old
At the name of Jesus
Be still, for the presence of the Lord
Be thou my vision
Bind us together, Lord
Blest are the pure in heart
Breathe on me, Breath of God
Christ is made the sure foundation
Come down, O Love divine
Come, ye thankful people, come
Crown him with many crowns
Dear Lord and Father of mankind
Eternal Father, strong to save
Fill your hearts with joy and gladness
For all the saints
For the beauty of the earth
Glorious things of thee are spoken
Glory be to Jesus
Glory to thee, my God, this night
God is love: his the care
Guide me, O thou great Redeemer
Hail the day that sees him rise
Holy, holy, holy! Lord God almighty
How great thou art!
Immortal, invisible, God only wise
In Christ alone
Jerusalem
Jesus Christ is risen today
Just as I am, without one plea
King of glory, King of peace
Lead us, heavenly Father, lead us
Let all mortal flesh keep silence
Let all the world in every corner sing
Let us, with a gladsome mind
Lift up your hearts!
Living Lord
Lord Jesus, think on me
Lord of all hopefulness
Lord of the Dance
Lord, thy word abideth
Love divine, all loves excelling
Make me a channel of your peace
Morning has broken
My God, how wonderful you are
My God, I love thee
Now thank we all our God
Now the green blade riseth
O God, our help in ages past
O Jesus, I have promised
O Love, how deep, how broad, how high
O love that wilt not let me go
O praise ye the Lord!
O worship the King
One more step along the world I go
Peace, perfect peace, is the gift
Praise, my soul, the King of heaven
Praise the Lord, ye heavens, adore him
Praise to the Holiest
Praise to the Lord, the Almighty
Rejoice, the Lord is King
Shine, Jesus, shine
Sing hosanna
Spirit of the living God (Iverson)
Stand up and bless the Lord
Take my life, and let it be
Take up thy cross, the Saviour said
Tell out, my soul
The Churchís one foundation
The day of resurrection
The day thou gavest, Lord, is ended
The head that once was crowned with thorns
The King of love my shepherd is
The Lordís my shepherd (Crimond)
The Lordís my shepherd (Townend)
The old rugged cross
The Servant King
There is a green hill far away
Thine be the glory
Thou, whose almighty word
Thy hand, O God, has guided
Walk in the light
We have a gospel to proclaim
We love the place, O God
We plough the fields and scatter
What a friend we have in Jesus
When I needed a neighbour
When I survey the wondrous cross
Wide, wide as the ocean
Ye holy angels bright
Category
Classical Collection
Series
Sorry, store availability can not be displayed for this product as it has multiple options.
Items are normally in stock, but please call to check before your visit.
There are no Feefo reviews for this product as yet. Below are independently collected Feefo Service reviews for Ackerman Music.
Date
Score
Customer Comment
21 Hour(s) ago
Service rating : Very impressed by speed of delivery and willingness to deliver one item as far as Bristol in the company van. Postal delivery may well have entailed damage to the piano. Lovely and helpful delivery man.
Product : Am not an experienced pianist but am very pleased with the sound quality, which is more than adequate for my beginner son.
23 Hour(s) ago
Excellent
24 Hour(s) ago
Service rating : Very fast service.
Product : Exactly as ordered.
35 Hour(s) ago
Service rating : Extremely pleased with service. Cheapest price including delivery that I could find online. Item delivered very promptly. Thank you!
Product : A very good quality cover, nicely finished with black trim. It is a little generous in size for my Korg PA600 (61 keys) but that is not a problem.
39 Hour(s) ago
Well packaged and fast delivery. Thank you.
45 Hour(s) ago
Service rating : Easy ordering, quick delivery
Product : Slightly darker tone than Java green, good control, easy staccato including bottom notes, played straight out of the box with minimal softening after several hours use.
46 Hour(s) ago
Service rating : Item delivered quickly and as described. Thank you A*
Product : Excellent reed with no reed mouthpiece issues :)
46 Hour(s) ago
Service rating : Somebody at Ackermen took the time to fit the same keyboard as mine in the bag to make sure it fitted OK. So I bought it from them even though I found it slightly cheaper elsewhere.
Product : The quality is what I would expect for the price. Should provide good protection for storing and carrying keyboard. (Probably not tough enough for gigging musician.)
47 Hour(s) ago
Quick and easy online service
47 Hour(s) ago
Service rating : Fast delivery. Helpful staff.
Product : Great item.